Canister Thrones
Cool classic vintage-style drum throne with a twist.
A throw-back to yesterday with a vintage-style canister throne just like the old days, but we knew how to improve it. Our 13-inch diameter canister thrones were built for comfort and convenience, and we gave it a little twist. That's right, our comfortable foam seat swivels so that it moves with you.
The 4-inch high foam seat tops a 17-inch storage area which can hold your sticks and other gear. Overall finished height is 24 inches. Choose from a variety of wraps to match your drum kit and complete your set. Finishing touches include non-skid pads, a trio of latches and a carrying handle. Custom sizes and cushion heights are available at an additional charge. If you're interested in purchasing the most comfortable canister throne available, give us a call.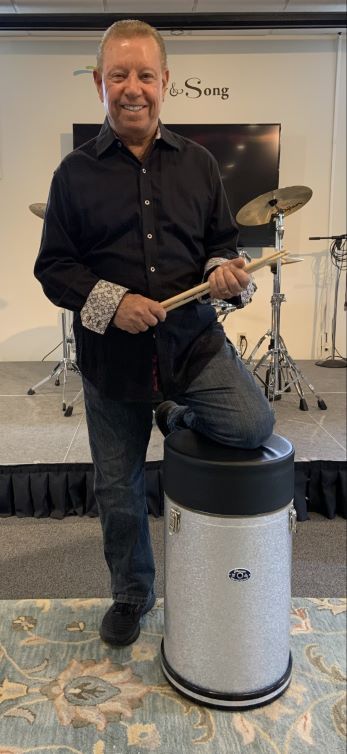 World-renowned drummer, clinician, and bandleader, Les DeMerle, proudly endorses Chicago Drum canister thrones. When you've spent as much time in front of drum sets as Les, you make it your mission to find the very best throne available for both comfort and convenience. Les found the very best when he chose Chicago Drum.
"I have to tell you that I have owned thrones from Ludwig and Slingerland and Rogers, and the Chicago Drum thrones put them in last place equally. Maybe the old band will get back together, who knows? I'm ready and my drums are ready and my choice of drum thrones is clear–Chicago Drum all the way!"
—Harry J. Cangany, Jr.